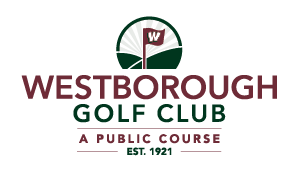 Westborough Golf Club Rates and Policies-2021
Holes
Rates
Residents/Seniors (Age 60+)
Monday – Friday
18
9
9 holes after 6:00 pm
$ 39.00
$ 26.00
$ 19.00
$ 36.00
$ 24.00
$ 19.00
Saturday, Sunday and Holidays before 12pm
18 holes
9 holes
$ 47.00
$ 31.00
$ 47.00
$ 31.00
Saturday, Sunday and Holidays after 12pm
18 holes
9 holes
9 holes after 6:00 pm
$ 42.00
$ 28.00
$ 19.00
$ 42.00
$ 28.00
$ 19.00
Carts (pp)
18 holes
9 holes
$ 20.00
$ 10.00
$ 20.00
$ 10.00
Juniors (under 20) — 9 hole rate is $20 any time on weekdays, and weekend/holiday after 12pm.
Weekend Special — A junior (under 20 years old) can play with a member or greens fee paying adult for free on Friday, Saturday and Sunday after 3PM. Advance tee time is required. Must mention special when checking in.
For 9 hole rounds, the last cart goes out at 5:30pm on weekdays, 4:30pm on weekends and holidays.
For 18 hole rounds, the last cart goes out at 3:00pm on weekdays, 2:00pm on weekends and holidays.
Club Policies:
All members & guests must sign in at the pro shop before starting play.
No practice to and from tees and greens.
Replace all divots, repair ball marks & rake sand traps before leaving them.
Proper golf attire must be worn at all times.
No fivesomes; singles and twosomes will be paired.
Each player must have their own clubs, one player per bag.
Must be age 21 or over to rent a golf cart
Keep golf carts at least 30 ft from the tees and greens and on cart paths where provided.
You must allow faster players thru if the hole in front is open.
Only alcohol purchased in the Pro Shop may be consumed on the golf course.
Children under 13 years must be accompanied by a parent/adult.
A defibrillator is available in the pro shop.